The Walking Dead
star Norman Reedus recently revealed why he thinks he needs to be handcuffed. Sadly, this has nothing to do with Daryl and Carol getting into some kinky,
50 Shades of Grey
-style sexy stuff in a future episode of
TWD
.
The actor is really awesome to the fans that can't get enough of seeing him fight the zombie plague with his trusty crossbow, so he spends a lot of time sharing tidbits of his life with them on Twitter. And he's also not afraid to make fun of himself on occasion. Reedus recently tweeted, "can someone handcuff me to a chair next time I do this?" The tweet featured a link to an Access Hollywood interview in which the actor gets very expressive with hands while talking about starring in a Radiohead video.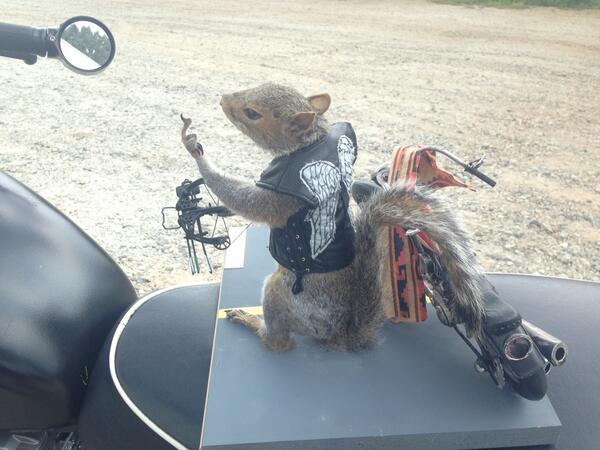 According to the star, the opportunity came along at a time when he was working at a motorcycle shop
and "shoveling pitbull s**t everywhere." He also said that he insisted on riding his own motorcycle in the Lady Gaga music video for "Judas." He was planning to sell it as the "Lady Gaga bike" but never did.
Speaking of Norman Reedus' love of motorcycles, he recently received a cool one from a fan. The Walking Dead star is one of the few celebs that show an appreciation for fan art by sharing it with the rest of the world, and he definitely has some interesting stuff to share. One of the recent pieces he revealed was a stuffed squirrel dressed like Daryl Dixon. It's giving the finger (of course) and comes complete with a mini crossbow and motorcycle.
A dead squirrel seems like a fitting companion for Daryl Dixon as he faces off against the zombie plague, because it's recently been revealed that some squirrels are infected with a deadly plague of their own (it will only be a matter of time before there's a drama about humans trying to survive the Bubonic plague).